Hello, I seem to be doing something wrong. My aim is to apply 2 attack attributes at once when attacking an opponent.
I created 2 status effects:
Enchant Fire
and
Enchant Water
where each add element attack attribute (fire and water).
I have target combatant with attack attributes
fire 200
and
water 300
.
The damage of my basic attack without any attack attribute is 7 against the target combatant.
After I add the fire attack attribute to my basic attack it's as expected 14 and if I add the water attack attribute it's 21.
When I add both, they both show up like this:

Ability target changes is set like this:

But for some reason when I have them both applied, only 1 takes effect and it seems like it's always the fire so I end up dealing 14 dmg, instead of the expected 21.
Any idea why? Status effect priorities are all set to 0.
EDIT: I just figured it's sorted by the order in which I have status effects in the ORK Framework.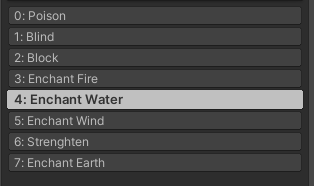 It's not clear to me why this is the behavior? Why am I not able to apply both and determine which will really take dominance by the ability target change setting set to
Damage calculation type: Highest
?
Post edited by zatokar on